For all materials, fabrics and Accessories
• Stringent material sources from reliable suppliers.

• High chemical performance fabrics produced by Doonly.

• Reflective strips and triple-proof (water, dust, down) auxiliaries.

• Strong zippers from YKK, IDEAL, and SAB, suppliers of listed enterprises.

• Sewing threads with high gloss, hard to break, easy to dye, and water-tolerance.

• Paiho durable velcro hook and loop fasteners with up to 10,000 times of use.

• Reliable and enduring buttons of SAB with their exclusive support.

For the finished down garment
• The highest level of performance index in the industry.
• 900 filled down content (90% of goose/duck down) on average.
• 80 0+ In³/Oz of fill power, and highest up to 900 In³/Oz as required.
• Pure and responsible down ​with no peculiar smell.
• Powerful cold resistance from 5°C to -30°C on demand.
• Breathability rate up to 5,000 g/m²/24 hours.
• Water-repellent, water-resistant, water-proof property up to 5000 mm H2O.
• Windproof, flame-retardant, anti-static, with other features also available.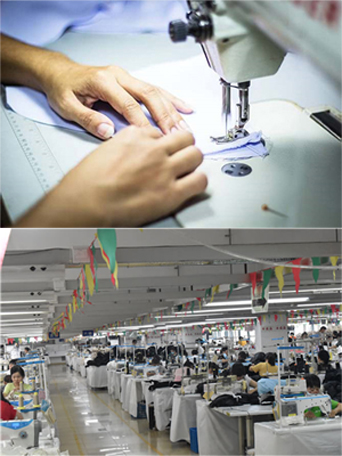 Absolute Focus, Ingenious Craft
Every single down jacket we manufacture is masterfully crafted and goes through at least 150 stages of workmanship process. We pay close attention to every aspect and we never ignore any element, no matter how small it may be, that may affect the integrated whole. Down clothing manufacturing is what we focus on 100% rather than making all kinds of garments with no guarantee of quality.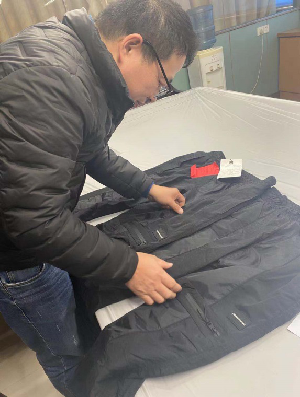 Comprehensive Inspections in All Directions
• In-house quality management system with guarantee.

• Each testing session has a specialized worker in charge.

• High-frequency full-loop examination every few pieces.

• 20 inspection specialists with 5-30 years of experience.

• Omni-directional monitoring throughout production.

• All 3rd party tests and inspections provided for comparison.
Thorough Fabric Inspection
With strict implementation of our inspection standard, we make sure the incoming fabric will go through the following tests, with the results recorded in computer precisely:
• Hand test to ensure no abnormal touch;

• Density test to check cloth tightness;

• Width and length measurement for correct sizes;

• Shrinkage test to avoid significant fabric shrink;

• Color difference and color fastness test for stable hues;

• Defect inspection to prevent obvious flaws;

• Tearing strength test to make sure no splitting of cloth;

• Down-proof test to guarantee no down coming out through the fabrics;

• Smell test to check and avoid peculiar smell.